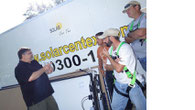 Many thanks to SolarBridge — a great technology company with even greater people. We're excited to use and offer this product to Solar CenTex customers.
I said microinverters will deliver more power to meet your needs and this is proving true already.
My house is already delivering lots of electricity — over 90 kWh over three days, and I still have another roof to install!  
Next week check back to see what "Casa Arey" is generating, because we'll link the Home Power Manager portal right to this site.
Solar CenTex can do the same for you. If you want to see my system, just send me a note at scot.arey@solarcentex.com.
Come out and see us!