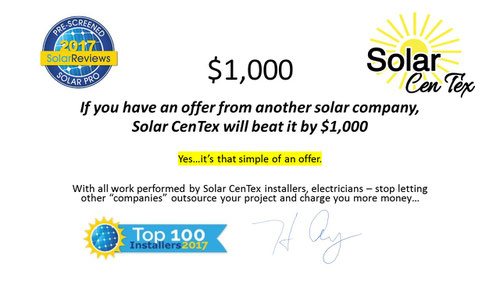 Stop overpaying for solar...
Why are we doing this??? Because we have seen too many "sales team only" lead-generation teams say they are going to give you "FREE" solar.
We are not free. But we do our own work and we do great work, all done with Solar CenTex installers and electricians. No outsourcing of your solar work — ever!
If you have a quote from somebody else, we will beat it by $1,000.
It's that simple. 
Why? Because good solar makes good financial sense, and we can show you this with honest proposals.
The best investment you'll make in 2017!
We design, install, and monitor the very best solar systems at the very best prices in West and Central Texas.
We install solar systems that will:
lower your energy bill right now 
prevent energy inflation from eroding your family finances
invest in the future value of your home
Solar is all we do, and we'll be part of our community for as far into the future as we can see.  
For our communities in Central Texas, we intend to be your first choice as you make one of your most significant home investments.  
For the families and businesses around San Angelo, our new location downtown means that you have a solar installer that is part of your community every day. That means you get the quality and value you deserve.
Check out what we do. We know that educating our community on the economic benefit of solar is important as Central Texas starts making solar power part of its future.  
We'd love to talk with you to protect you and your family from rising Texas electricity prices and ensure you always have electricity when you want and need it.
FREE quote - contact Solar CenTex
You can always contact me 254-300-1228 or by email at this address: scot.arey@solarcentex.com.