Three ways to install solar on your home
If you want solar, we can install it.  Part of our site survey at your home is to recommend a solution that will maximize the solar electricity production and be aesthetically beautiful.
When you see a picture below, it means that Solar Centex installed it. No stock photos here - just beautiful, efficient solar from our team.
Rooftop Mount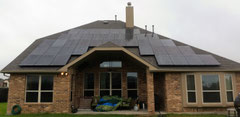 Rooftop solar should nearly always be your first choice.  Your roof is a great place as it typically has the best access to sun, there is least potential for damage, and the wiring from the modules to your electric panel is shortest.  We might recommend against a roof mount if you have substantial shading that we can't work around.
Below are pictures of our work around the region.
Solar Pergola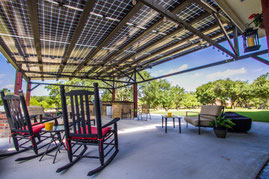 We recognized the potential value in these when we had a customer who wanted a ground mount.  But when we looked at his large inground pool...with not one bit of shade...I asked how much he used it.  "Never during the summer because the sun is too much."  Solar CenTex solution: design and build a solar pergola.  We can custom design this to meet your needs for shade and electricity.  
The modules on this are amazing: frameless, glass on glass and transparent.  Amazing performance too - each puts out 380 watts using bi-facial technology which means that light hitting the bottom side will produce up to another 10% of power over and above the rated value.  
We do all the metal work - our team does beautiful welding and this means we design and build what you want...not what somebody else might be limited to.  Every component of this pergola is the very best quality, from hardware to the solar modules.
Power, shaded recreation space, and a great way to increase your enjoyment and your home's value.
Solar Carport / Utility Shade Structure
Customers kept asking, "can you raise the ground mount so we can park cars and farm equipment under it."
People know what they need and we know how to meet those needs!
This is the 18.7 KW carport - 48 390-watt modules and that means about 28,000 kwh of electricity per year. All while you get your "stuff" away from the Texas sun (or hail).
This one just went up in Salado and as you can see, it fits beautifully in a rural setting. It would fit just as nicely in a company parking lot.  And the whole price is eligible for the 26% Federal Tax Credit, of course.
Our custom structures are as beautiful as our solar pergolas. We can design to meet the needs of specific vehicles out energy production requirements.