You have the land and barn roof space - let us help you save money
We can add solar to your barn, on the ground, or even custom-fabricate a structure you've needed. 
Solar CenTex has done solar in every way imaginable - all with the 30% Federal tax credit that makes it a fantastic investment. 
Ground Mount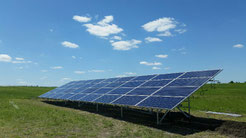 This is how we got started with Ranch and Farm solar. A ground mount is an incredible "bang for the buck. We use commercial-sized 72-cell modules and top of the line central, "string" inverters. 2-inch galvanized pipe set in concrete piers means this is a system that your kids will inherit.
Barn Mount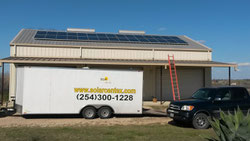 If you have an existing barn or utility building nothing beats the cost effectiveness of using this structure to mount your solar. We use S-5 "Protea" brackets to mount to the metal roof and this means security and water-tightness. Most buildings already have electric run and if the wire sizing is right for a solar interconnection, we can save you lots of money. If we see a metal building on our overhead imagery review, know that we'll be asking about it.
Carports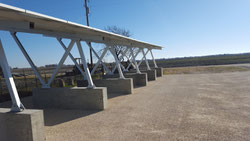 Shade is important to folks in Texas. Our carports are functional on so many levels: shade for your equipment and vehicles all while providing LOTS of solar electricity and a 30% tax credit. We have pre-fabricated structures that mount to concrete footings (which we do in-house; no sub-contracting!) We also custom fabricate structures as you can see below. These typically are used on sites where we're matching to a home or the owner desires to use the bi-facial clear module that we mount on our solar pergolas. If you can envision it, we can build it and mount solar on it.
Custom frames and water collection support
What is better than collect the sunshine to make power??? How about collecting photons AND WATER!
Our customer fabrication and design capabilities means that we can design to meet your needs. This 14.4KW solar array will collect to this 3,000 gallon tank.
This Texas Hill Country array will support an off-grid home.