We know and love Solar and Texas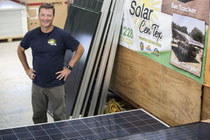 Solar CenTex was started by Howard "Scot" Arey. Scot was a career Army officer with much of his time spent here at Fort Hood. After he retired, he joined Nexolon America in San Antonio first as the Chief of Staff, then promoted to the Executive Vice President position. There he helped commence that company's efforts to manufacture high-quality/high-yield solar modules for San Antonio. Scot's commitment to solar in Texas is based on his conviction that Texas' growing population is outpacing its electrical generation capacity. He serves on the Texas Solar Energy Society board of directors and was elected its Chairman through 2015. At TXSES, he is able to advocate for programs and policies to support solar in Texas. Scot has a B.S. from the U.S. Military Academy at West Point, a M.S. in Manufacturing from East Carolina University and is a certified NABCEP PV Installation and PV Technical Sales Professional. He, his wife Jennifer and their girls live in Harker Heights.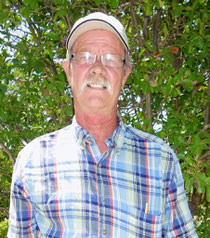 Scott Shumate is the Master Electrician of Solar CenTex. With over 27 years as a master electrician in this state, Scott understands the National Electric code as well as local jurisdictional requirements. A long-term electrician at Fort Hood, Scott understands that quality in the electrical business is never to be compromised. Another Salado resident, his "kids" are grown. Scot is thrilled to have him on the Solar CenTex team.
Central and West Texas' first solar installation company...your solar company brought to you by a Solar CenTex team that is from here and will stay here.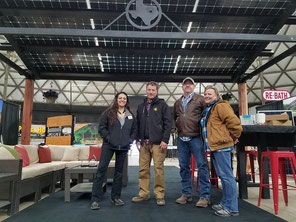 Chris Graham joined us after he purchased a Solar CenTex solar ground mount. I could tell he was inquisitive and passionate for solar so I asked him, "Are you interested in helping others invest in solar?"
All of our customers north and west of Fort Hood are glad he he said yes. If you're in an electric cooperative, have a ranch or acreage or want battery backup, Chris is the guy you need to speak with.
All this from a former First Sergeant/Ranger Instructor — amazing!
Our Install Team Leaders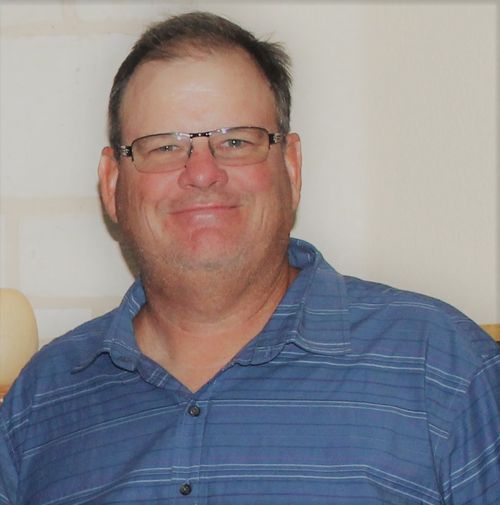 I'm incredibly fortunate to work with some great guys who love designing and building great solar arrays.
From left to right, the original leaders of Solar CenTex: Kerry Nolen, Fred Wahlgren and Lyvell Marzett.
The nation was fortunate to have them as U.S. Army Soldiers. I'm blessed to have them as craftsmen and solar professionals.
I'm putting Fred in this picture because it shows the "craftsman" side of him. He oversaw the construction of our first solar pergola (and the matching table). I just need to sketch (or think out loud) some ideas, and Fred puts it into action. Fred keeps the team members going day in and day out.
I'm using this picture of Kerry, because I want to keep some historical reference of Kerry with a standard beard. Just look at the photo above, and you'll see what I'm talking about.
You won't find a harder or more conscientious leader. Hardly a job goes by that somebody doesn't compliment Solar CenTex on Kerry's Bonham, Texas, good manners or the great work he has done.
Lyvell found me, and I'm glad he did. He contacted me when we first started. When he told me he had sought and taken solar installation courses, because it was what he wanted to do, I knew he needed to be part of the original team! Lyvell is part of everything today — on roofs, entering layouts on the web monitoring portals, getting equipment and supplies.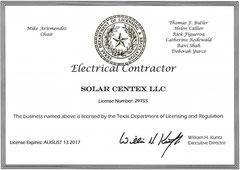 Solar CenTex is registered as a Texas Electrical Contractor. This is a requirement to perform solar work in Texas. Further, it is evidence that we carry the General Contractors' Liability insurance required by the Texas Department of Licensing and Regulation (TDLR).
Since we're also an authorized provider for the Oncor Solar Incentive Program, our company carries worker's compensation insurance to meet the stringent Oncor requirements.