Solar is all we do — that means you get the VERY BEST at the LOWEST price!
There is no doubt that solar is the "hot thing" right now and that means more and more people will start chasing your dollars looking to make a buck. Be careful!
Solar CenTex does one thing — SOLAR.
We don't dabble in fireplaces or air conditioners or electric supplies and lighting. We don't change our name like some we know when a list of irate customers causes them to ... "re-brand."
We design, install and monitor the very best solar installations in Central and West Texas.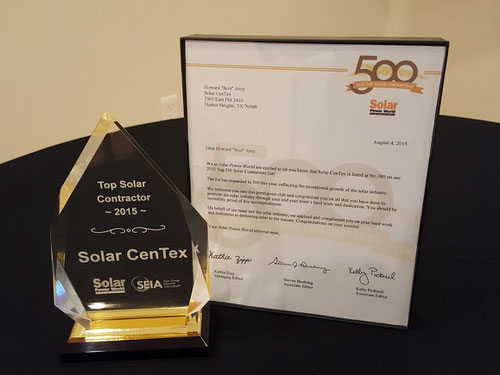 Here is what will set us apart from others:
- NABCEP PV Installation Professional certification means you have the very highest level of solar professional designing and installing your system
. I'm proud to have earned this certification with its rigorous test and experience requirements. You should demand a 
NABCEP certified PV Professional
 for your home.
Don't let others learn how to install solar on your roof.
- The Solar CenTex team does not sub-contract your work. You get one team from start to finish and that means better service, quicker installation, the very best quality and just one person to answer your questions. Don't let others try to fool you that sub-contracting adds to their quality or customer service — it just is not possible.
With Solar CenTex, you get one team to deal with
today, tomorrow and for the future.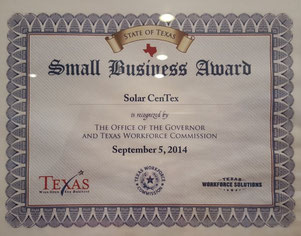 - Our senior team leaders have been to basic and advanced levels of PV design and installation.
You won't find more well-trained leadership in the field - and on your roof! These leaders aren't just installing from a set of plans with little understanding. They 100% understand the requirements and science behind solar and system design. We were recognized by the Texas Workforce Commission for our workforce development program. You'll recognize the difference, too.
Demand that your on-the-roof team leadership
has the very best training.
- We have the most complete portfolio of work in Central Texas and that means we can design and install solar how you want it.
You'll see a lot of "one-trick" ponies.  They might only do microinverters or they don't know how to route conduit through attics for aesthetics (and meet code requirements when doing this...). Maybe they shy away from ground mounts or steer you away from battery storage.
Not here at Solar CenTex - we have installed solar in every way possible.
Check out our work - rooftop, carport, ground mount, battery, DC Optimizers, string inverters, commercial rooftop, solar pergolas and pavilions - we've done it and can show you our work and let you meet over one hundred satisfied customers.
If you see a picture on this site or our Facebook page, it's work WE HAVE DONE. No stock photos here - just the most complete, comprehensive set of choices so you can have solar that fits your home and requirements.
Don't be forced into a single "choice" by an
inexperienced or new installer

We have a fantastic ratings on Solar Reviews.com and that comes directly from our satisfied customers.
SolarReviews.com is the "Angie's List" of solar. We're proud to have a near-perfect rating. As importantly, we've reached the level of "Pre-Screened Solar Pro."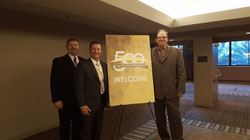 We have relationships with key players in our solar industry and that means we get the best technology and the best prices.
We go to professional industry events, because we meet the people who provide us the products for your home. Every one of them is 100% committed to seeing us succeed. They do this through the best pricing, the quickest delivery of your product, and an unyielding perseverance to get what we need — when we need it for you.
Don't settle for a new installer that is buying the "special clearance" items for your home or business.
- NABCEP PV Technical Sales certification means the sales team completely understands the financial performance of your system, in your utility or electric cooperative.
We understand every aspect of how solar will financially perform for you.
We know that Bartlett Cooperative is different than Hamilton Cooperative, as it is from the Concho Valley Electric Cooperative. 
We know based on our site survey and assessment which Oncor-area or AEP-area Retail Electric Provider will provide you the best rate of return for excess, backfed electricity. We even recommend specific electric plans to optimize your return.
This means we don't oversize systems to meet our financial goals; we design to meet your needs.
Don't let new installers hand-wave the performance of your system Demand that every fact, assumption, and performance ratio is 100% clear to you: We do.
This isn't the first time I've written about this.
Some may remember my blog about picking an installer. 
Here is the link — I haven't changed my thoughts on this!