The most beautiful way to have solar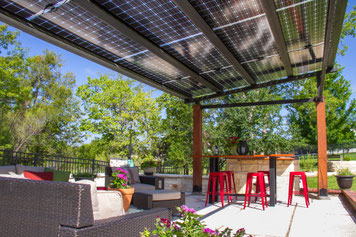 Our 100% customized-for-you solar pergolas are absolutely stunning.
We create an outdoor space that is sure to become your favorite entertaining and relaxing area.
Every part of the frame is custom cut and fabricated to fit your space and design aspirations.
Whether paired with another solar rooftop array or as a stand-alone structure, know that you'll have the most beautiful, tax-credit-eligible, non-property-taxable, electricity-producing space in your neighborhood.  
If you were thinking of a traditional pergola, you owe it to yourself to look at one of these. 
This is the only shade that pays!