Battery-based systems are a great choice in Texas
Battery systems are now financially viable and easier than ever to operate. No longer the system exclusively for those who wanted to disconnect from society, these systems are now mainstream options for many who contact us.
The two essential questions to ask yourself:
Do I have essential systems that MUST keep operating during electric disruptions?
Do I recognize that when I select batteries, there is an unquantifiable benefit that will cost more than a straight grid-tied system?
The most important question is, "Do I want power when others might not have it?"  If the answer is yes, please let us show you options to meet your reliability and security requirements
Solar CenTex designs and installs the very best battery systems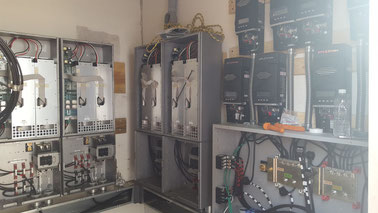 Others talk about backup: we understand it and know how to install the most robust, reliable systems in Texas.
We have the ability and knowledge to install everything from simple single inverter systems to "multi-stacked" inverter setups like you see to the left, able to back up an entire ranch.
Here is what we get right...and our competitors get wrong
We size the battery bank right to ensure you have power when you need and for how long you need it


We size the inverters (or inverters) right to meet the peak load you need to back up


We size the wires right to get the power you need from the batteries to the inverters...safely.
We're called out frequently to fix systems put in by other "installers." We're pretty blown away by the under-designed, under-sized, unsafe systems we sometimes see.
Don't let this happen to you - pick Solar CenTex from the beginning and have 100% reliable, secure power - ALL THE TIME
When you select a battery backup system, we'll ask you lots of questions!
We have a portfolio of "cabin-sized" to "whole-ranch compound" projects to share with you.  We can help you understand what can be very complicated for many other installers.

Make no doubt about it - if I was building a new home in Texas today, or was in my "forever" home, I'd strongly consider a battery system to ensure I had power when I wanted it, at the price I wanted it at.