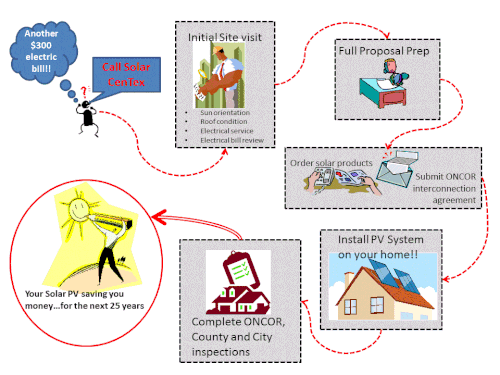 Putting solar on your home is not difficult...but it is a process that will take time and knowledge.  Expect 3-4 weeks to get from the point where your power bills are driving you nuts to photons hitting your roof to provide electricity from your new panels.
The process:
You have that "Why don't we look into solar" moment...usually right after you get an electric bill
Solar CenTex does an initial site visit to confirm solar suitability
Solar CenTex prepares a full proposal, tailored to your financial needs, electric requirements, and home.
Solar PV and electrical material is ordered, along with the necessary permitting and interconnection agreements
A professional Solar CenTex installation crews puts the system on your home and explains the process as they work so you understand your system
Solar CenTex completes the necessary inspections and incentive applications - you should never be asked to do this!
Solar CenTex instructs you on how the system operates (your neighbors are going to ask you), and how to monitor your output on the web.
Enjoy the satisfaction of knowing that your Solar PV system has locked in your electric rate for the next 25 years!
We will follow up with you to answer any questions after the installation.  
Every location in Central Texas is different - we know each utility / cooperative and how to optimize a system for your needs in that specific area
We're in the middle of the Oncor service area and are surrounded by four electric cooperatives.  Each one is different, but we know how to apply, approve, and install systems in these areas.
In the Oncor area? We'll help coordinate the electric surplus agreements so you get the credit you deserve for electricity you feed back to the grid.


In Bartlett?  We understand their net-metering policy and can design to maximize the potential for you.


In PEC? We understand how they credit your surplus energy...to a certain level.  That's why we don't "over-design" a system that won't return the best value to you.


Hamilton Co-op, Heart of Texas...
Other companies will try to get you to buy their "package" but we design each and every system to your needs, in your area.