Energy inflation in Texas always seems to be something that happens to somebody else.  Well, it's happening to me right now.
When I meet with potential new customers, I tell them how Solar CenTex models a conservative 3.78% energy inflation rate in our proposals, but that just last year in Texas, electricity prices inflated 9% and they ought to be aware of that.
I'm very careful to say that 9% is not the year on year forecast but with ERCOT having the electric generation challenges it faces over the next decade, I tell those considering solar that when they make that decision to go solar, they'll be protected against inflation for the decades ahead.
Well…my two year contract with TXU is up and the choices I have aren't very pretty.
We've been with a TXU plan call Texas Choice 24.  Its base energy charge is 7.9 cents per kwh.  I know that there is the Oncor charge over and above this price (we all do need to pay for the great service that Oncor provides to us – reliable transmission) but for the sake of "apples to apples", we'll just talk base charges.  I've been satisfied with my plan.  I knew there were better month to month plans but my family knows it paying a fair price for a 2-year contract.
Imagine my shock when I opened the "Renew now to keep your low rate" letter from TXU.  I knew it would be more than my current rate because I've been telling everyone, "you don't see this inflation on a month to month basis, but you'll see it when you try to renew."
11 cents per kwh...plus the Oncor charge!  Yikes…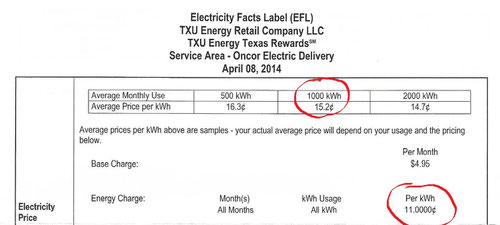 Let me do the math: 7.9 cents to 11 cents is an increase of 3.1 cents per kwh and in terms of percentage, that is an astounding 39%.
So I did what I advise future clients all the time – go to "PowerToChoose.org" and make an informed decision.
I didn't find any magical "cheap" plans.  I seem to find more month to month plans but I know to be careful as they're typically indexed to natural gas prices and that's gone from $1.80 to $4.80 in the last two years and is just one global crisis from exploding further.  
I have found some plans that are really beneficial to solar owners and I'll be choosing one like this in the future.
In our area, TXU, Reliant, and Green Mountain are the three retail electric providers that credit you for solar that you feed back to the grid (and everybody feeds solar back on a day to day basis).
The first two are offering plans that reward you for being a low energy user.  Their stepped rate structure is going to be ideal for me.  Under a 1,000kwh in a month and the price is 6.8 cents from Reliant ("Reliant Conservation 12") or 7.2 cents for up to 1,200kwh from TXU ("Smart Start 12", but I don't like their doubling of the base charge to $9.95).  That fits my solar household great!  Except for peak winter and peak summer, I use under 1,000 kwh.
What have I learned?
That our market-driven Texas energy market is rewarding those that make an investment in the energy efficiency and energy use reduction for their homes.  Texas electric providers are trying to dissuade high electric users and nothing changes energy behavior like crazy high prices.
And nothing makes an investment in solar more worthwhile than the opportunity to get 6.8 cent per kwh electricity.
Time for even more solar modules on Casa Arey!