We're hiring - and we want the very best to join our growing team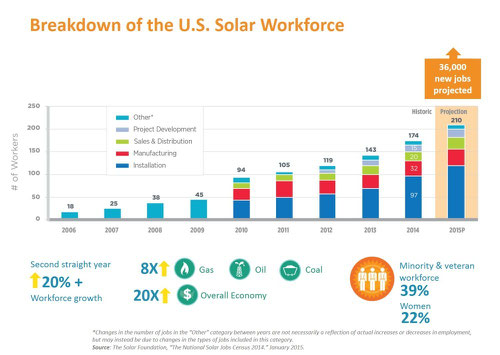 Solar CenTex is hiring new installers.
If you're not afraid of hard work, heights, and working with great teammates, you've passed the first test.
If you want to learn in one of the fastest growing industries in the United States, and want to join a team that has been awarded for its workforce development, then we can pass your test - "is this a great place to work and grow?".  Yes - we are.
Announcing the Solar CenTex job fair - Saturday, November 21st at our 1901 East FM2410 shop location, from 8AM to noon. We'll be offering jobs on the spot to the best qualified.
We're heading into the final year of the 30% Federal Tax Credit
The tax credit is amazing - a dollar for dollar credit that is 30% of the final price of your system (including sales tax!)
After leaving the Solar Power International Conference in September, I got a strong impression that competing political interests are going to keep this from being renewed.
This is the #1 way to pay your tax bill - with a solar system that will pay you dividends and benefits for decades.
Bringing Solar Power to Central Texas!
Solar CenTex is leading the effort to bring solar to Central Texas...
We design, install, and monitor solar power systems that will:
lower your energy bill right now 
prevent energy inflation from eroding your family finances
invest in the future value of your home
Solar is all we do and we'll be part of our community for as far into the future as we can see.  
For our communities around Fort Hood: Killeen, Copperas Cove, Harker Heights, Belton, Gatesville, Temple, Kempner, Lampasas and points beyond (Brownwood!), we intend to be your first choice as you make one of your most significant home investments.  
We're not a solar business from somewhere else that you'll never see after you pay for the system.  We'll be here with you - because we're from here.
Check out what we do.  We know that educating our community on the economic benefit of solar is important as Central Texas starts making solar power part of its future.  
We'd love to talk with you to protect you and your family from rising Texas electricity prices and ensure you always have electricity when you want and need it.